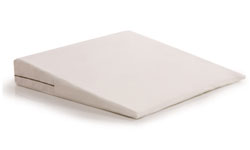 Click to Enlarge Picture
Avana's Slant is the perfect companion for GoldenRest adjustable bed users who want nothing more than to take their bed with them on vacation. And because the Slant keeps your head and your torso gently elevated it's ideal for pregnant woman, acid reflux sufferers, or anyone who prefers to sleep in an elevated position.
The Avana Slant is built on a urethane foam foundation covered with memory foam that conforms to your body's shape. It comes with an antimicrobial padded polyester cover that zips offs for easy washing. Choose from 5" or 8" elevations and widths of 30" or 38".

Product Reviews