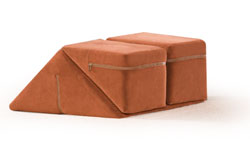 Click to Enlarge Picture
The Avana Leg Wedge uses a patented 3-part design that gives you unlimited positioning options for your legs. The unique erect microfiber covering on the Leg Wedge allows the components to adhere to each other in any position while simultaneously improving the circulation in your legs and feet. The Leg Wedge is great for relaxing or relieving pain from muscle soreness, joint stiffness, or injury.
The Avana Leg Wedge features zippered, washable microfiber covers.

Product Reviews