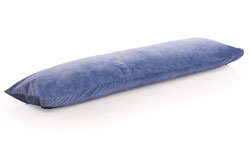 Click to Enlarge Picture
The Avana Body Rest is filled with clusters of memory foam micro-cushions that surround and support your joints and reduce pressure points. Because these support clusters are made of memory foam they also retain body heat that improves circulation and makes the Body Rest feel like an extension of your body.
The Avana Body Rest is available in three lengths - 24" for the head, 30" for the legs, and 54" for the body. Whatever length you choose, look forward to deeper, more restful sleep. The Avana Body Rest makes a fantastic accessory for pregnant women, people recovering from surgery, or anyone who suffers from back pain, nerve problems, restless legs, or sleep apnea. Combine with a GoldenRest adjustable bed for the perfect nights sleep.

Product Reviews