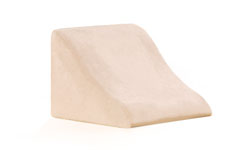 Click to Enlarge Picture
Avana's Back Wedge uses temperature sensitive memory foam cushioning to absorb and redistribute pressure evenly across your upper body. Along with the Back Wedge's ergonomic contour base, this pressure reduction means you can recover more quickly from muscle aches and pains and sleep more deeply when you nap.
The Back Wedge features a zippered, washable microfiber cover. We recommend this item with the Avana Head and Neck Rest for maximum comfort.

Product Reviews